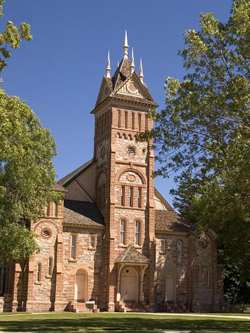 Paris Tabernacle
The historic Mormon Paris Tabernacle located in Paris, Idaho is an awe-inspiring building full of very unique architecture.
Designed by a ship builder, the ceiling has wonderful style along with the graining of all the wood to make it appear like oak. This magnificent building is well worth the trip to see!
Tours take place daily from Memorial Day to Labor Day 9:30 am to 5:30 pm.
---
The National Oregon/California Trail Center
Located in Montpelier Idaho will educate you on the history surrounding the popular Oreogon Trail that came through the Bear Lake Valley. See the trials and sacrifices pioneers made as they struggled westward to Oregon and California.
May 1st through Labor Day 10 am to 5 pm.